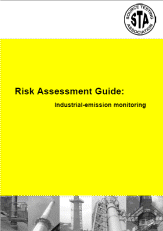 There are many hazards associated with carrying out a stack-emissions test in process industry.
The basic principles of good health and safety practice must be applied. The STA is committed in
providing best practice advise and guidance to its members, their clients and industry in general.
---
Frequently asked questions relating to Health & Safety in emission monitoring;
What are the requirements under the HSE legislation "work at Height 2006" for permanent platforms?
What surveys and inspections are required on permanent platforms?
Is there an easy guide to the work at heights legislation?
Is there a scheme similar to the ScaffTag system but for permanent platforms?
Are there any statistics for accidents relating to emission monitoring?
Where can I option copies of the STA guide on Risk Assessment relating to Industrial Processes?
Does the Environment Agency provide any guidance on risk assessment and platform inspection?
Who provides guidance on the prevention of accidents?
Does the STA provide other guidance or bulletins relating to Health & Safety?
Is there a specific insurance scheme for STA members?
Is there a system available for safely lifting equipment?
Where can I found details of scaffolding loadings?
If there are any questions please contact us